Benefits
Ensure your Customer Identification Program is smooth and efficient with our easy to use platform
Simplify your Customer Identification Program (CIP)
A one-stop-shop for all your CIP requirements

Our innovative platform is the only CIP that also performs full Sanction and PEP screening and ongoing monitoring. Streamline your entire AML process by switching to our all-in-one solution.

Save time and money

SmartSearch ensures you never waste time screening or running enhanced due diligence on the wrong person. Our all-in-one platform identifies and verifies an individual in one easy check so you always know exactly who your customers are.

Instant notifications on anything suspicious

Thanks to our unique daily monitoring service, you don't have to keep checking Sanctions and PEPs lists. We take data from the Dow Jones Factiva Watch List every night and notify you if the status of any of your customers changes, ensuring you remain fully compliant at all times.
SmartSearch can facilitate your entire CIP, saving you time and money
Intuitive system with integrated app

The SmartSearch system is so easy to use that team members at any level can successfully run AML checks, either through the main platform or via their cell phone or tablet using the app.

Clear and simple reports

Once a check has been run through the platform, the results appear in a single report which is clear and concise and can be downloaded in seconds.

You'll never need to upgrade your AML processes again

All our customers have access to the same central platform, which we are continually improving and updating inline with the latest regulations, meaning you'll never need to upgrade to stay compliant.
You'll always be ready for audits and regulatory visits
Instant access to all customer checks

Every check you do is automatically saved onto the platform and monitored daily against Sanctions and PEPs lists. This means you can access customer data, instantly, whenever you need it.

Boost productivity, efficiency and service

SmartSearch enables you to create efficient workflows that boost productivity and improve service levels. Using our award-winning platform, you can export any information you need quickly and easily, whenever you need it.

Batch upload all your existing customers

We can retrospectively batch upload all your existing customers and perform an up-to-date AML, Sanction and PEP check on each. This ensures you start with a clean compliant position while our ongoing monitoring guarantees compliance for the duration of your contract.
Streamline your CIP processes and improve customer experience
95% match and pass rate

Thanks to multiple data supply agreements, we can deliver a match-and-pass rate of 95% and clear up 75% of your failed cases automatically, making your entire CIP process quicker, easier and more efficient.

No need for documents

With SmartSearch, you will never need to rely on slow, unreliable manual checks again. Just enter the name, address, date of birth and social security number of an individual and SmartSearch will complete a full ID check and Sanction and PEP screening in less than two seconds.

Carry out full AML checks whenever, wherever

Our fully integrated app allows you to access the SmartSearch system remotely via your cell phone or tablet. This means any user can perform customer identification and verification whenever they need to, from wherever they are.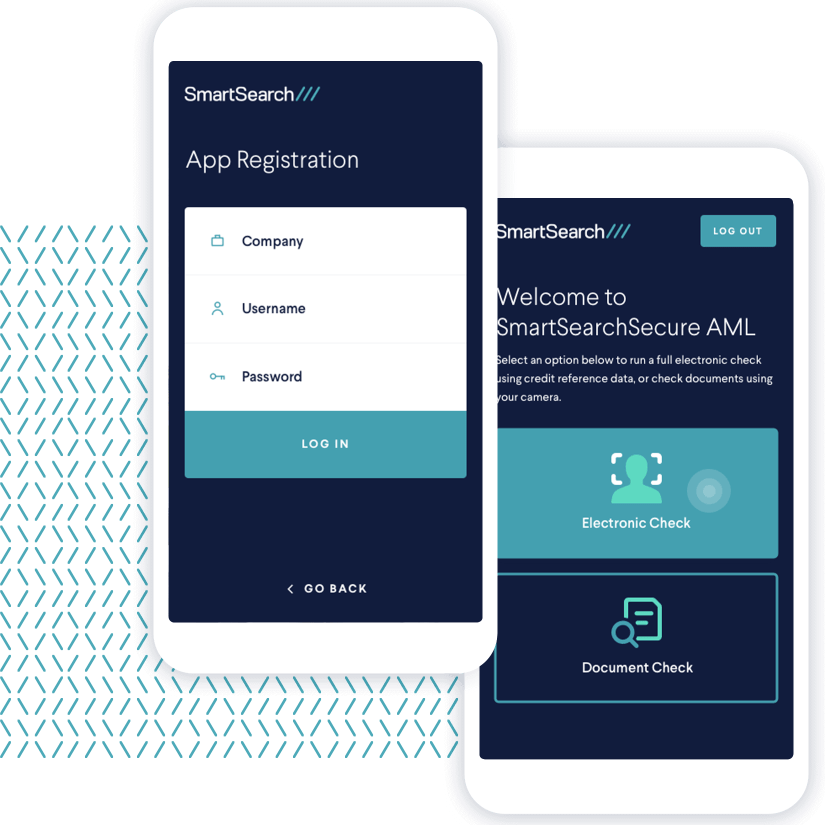 We are here to help
Training tailored to your needs

SmartSearch has been designed with user-friendliness in mind, making it simple and easy to use. This, combined with our comprehensive training which can be tailored to your requirements, means team members at any level will be able to successfully run the CIP and AML checks.

Dedicated customer success manager

Every SmartSearch customer has their own dedicated customer success manager; they will be your main point of contact and be able to immediately answer any questions or queries you may have. You will also have access to our full customer services team for additional support.

Comprehensive offline support

In addition to our expert customer services team, you will also have access to our 'how to' guides which offer step-by-step instructions on how to use the system and our 'product sheets' which tell you all about our services.
See it in action
Let one of our highly-trained sales team demonstrate
the multi-award winning SmartSearch AML product
Get a free demo
Sign up to our newsletter to receive news, resources and updates straight into your inbox!
By submitting your email address, you consent to us sending you emails about news, case studies, resources and updates. To find out more, visit our Privacy Policy.